Citizens Mobile Home Insurance
Mobile home insurance Florida. Compare quotes, including coverage for older mobile homes. Start saving today!
Compare Quotes in 2 Minutes
Secured with SHA-256 Encryption
More than nine million Americans live in mobile homes. These lower-cost homes are trendy in the US's southern regions, such as Florida, Texas, Mississippi, Tennessee, and Alabama. The popularity can be attributed to the relatively inexpensive costs of acquiring these types of properties and the cheap land costs in the south. In recent years, many Americans have been pushed out of the traditional housing market, and the only way to afford a property is by buying a mobile home.
New buyers need to get mobile home insurance and adequately protect their assets if they own or lease the property. Mobile homes are more susceptible to natural disasters like tornados and hurricanes and, in severe weather, can sustain extensive damage.
Insurance coverage for a mobile home is, in many ways, a lot like a typical homeowners policy. Many insurers who provide coverage for modular or mobile homes have two types of coverage options, standard and upgraded. The upgraded policy will allow you to replace your modular home at current market rates and insure your property with up to 120% of the coverage.
Note carefully on the declaration page of the insurance policy. An upgraded plan will also provide claim compensation for a broader scope of potential hazards, such as flood damage. You need to carefully decide what option is best for you and if it fits into your budget. If you live in an area prone to flooding, it's smart to get this added protection.
Mobile Home Insurance Coverage
Most mobile home policies will cover the following:
Dwelling Coverage
Dwelling coverage is the core of mobile home insurance policy. It will pay for repairing your mobile home or the cost of replacement, depending on the limits of your policy. For example, most standard policies will cover the following:
Fires and explosions
Lightning damage
Vandalism
Falling objects (such as a large tree limb)
Wind and hail damage (hurricanes are common in certain regions, including Florida)
Ice and snow damage (often results from snow built on the roof that causes a collapse)
Damage Caused By Animals
Piping Damage (this could result from extreme weather conditions)
If you live in an area with a history of earthquakes, like California, consider adding on separate coverage. While this will cause your mobile home insurance cost to increase, it might be worth it in the event your home is severely damaged in an earthquake. It's also important to note many California mobile home lenders will require earthquake coverage as a condition of the mortgage.
Coverage for Surrounding Structures
You should also consider coverage for nearby structures on your property. This can include:
Sheds
Fences
Home Decks and constructed walkways
Patio Coverings
If you get this added coverage, you will be covered if surrounding structures are damaged. Before you pay for any policy, it's wise to read all of the fine print and go over it carefully beforehand.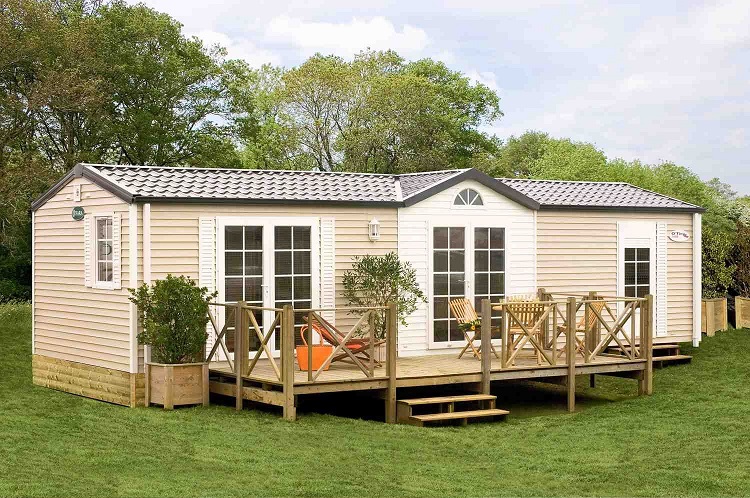 Coverage for Personal Property
When you think of home insurance coverage, you probably don't think about the contents inside. It's an essential aspect of securing the best coverage possible, especially if you have personal content in your mobile home worth more than $10,000.
Having coverage for personal property will cover you for things damaged inside the mobile home, including:
Electronics
Furniture
Jewelry
Appliances
Make sure you take inventory of all your possessions and even items you have inside a personal safe that are valuable. It's wise to take a home inventory of all your personal property to have this as evidence if you file a claim. You can use your smartphone to do this by making a video or taking photos. Get a free mobile home quote today in a few short minutes. Start by entering your zip code.
Select the Right Coverage Limits
Choosing the proper limits for your mobile home is a crucial decision you should weigh carefully. You want to select high enough limits that allow you to replace your home when you file a claim in case your home is totaled or destroyed. For example, if your mobile home is worth $150,000 and you only have $100,000 in limits to replace it, you would need to come up with the balance to rebuild your home if there was a total loss.
Mobile Home Insurance Cost
Many people think that just because a modular home costs less than a traditional one, the insurance will also be much cheaper. Unfortunately, this is not always true, and in many cases, you might end up paying as much for mobile home coverage as your neighbor does for a standard brick house.
Your mobile house is a significant investment, likely your largest, and you need to protect it adequately. Don't focus on just getting the cheapest manufactured home insurance policy but the best coverage that adequately protects you from catastrophic events. If your mobile home gets damaged seriously, you will be thankful you got the best coverage you could afford.
Generally speaking, you will pay around $400 to $1,200 annually for your modular home insurance.
Factors Influencing Auto Insurance Costs
Many factors go into pricing your coverage, including:
1. The area you live in
Geographical regions with a higher propensity for fires, hurricanes, flooding, tornados, or other severe natural events will cost more to insure your manufactured home.
2. The appraised value of your manufactured home
Manufactured homes come in many price ranges and thus need to be insured for the property's current market value. If you have a double-wide home, for example, on a cliff overlooking the ocean in California, you will be paying more than a person with a single-wide in southern Alabama.
Also, the age of your modular home will be a factor in your premium costs. Many older manufactured homes are significantly weaker and are more prone to damage than newly built manufactured houses with stronger and more resilient materials.
3. The level of personal property coverage you get
Commonly known as contents coverage, this protection will compensate you in the event your personal items are damaged or stolen. Examples include a tornado where many personal items were damaged beyond repair or theft occurred. If you own some really valuable things like a Rolex watch, list them individually in your policy and their value to ensure you are covered. Also, as stated previously, take a photo of each valuable personal item, which helps expedite the claim process and provides additional proof that you are the owner of these articles.
4- The deductible you get
A home deductible is simply the amount you choose to pay before your insurer provides compensation if a claim is made. The higher you set your premium, the lower your premiums will be. So, increasing the deductible is an excellent way to add extra coverage to your policy while still keeping your costs down.
Mobile Home Insurance Quotes
Many providers offer mobile home insurance. You can compare quotes online in just a few minutes. Bundling your automobile and modular home insurance together is an excellent way to save. This helpful tip can save you 15% or more. To get the cheapest mobile home insurance quotes, compare multiple rates online. Prices fluctuate considerably from each insurer, so get as many quotes as possible.
The Cheapest Mobile Home Insurance Companies
It's important to note that not all insurers offer manufactured structure or mobile home insurance coverage. However, several national carriers do offer these types of policies. These include:
Allstate – One of the leaders in the industry, provides low-cost coverage along with several discounts
State Farm – Bundle mobile home and automobile insurance and save 10%
Foremost – A top-rated insurer that has decades of experience insuring manufactured properties
American Family Insurance
Nationwide
Farmers
Progressive – Offers cheap insurance and bundling discounts
Geico
Met Life
Assurant
USAA – Has discounted coverage for military members and their family
For those that qualify for USAA mobile home insurance, their rates are hard to beat. They also have bundling deals that can save you a lot of money. Based on location and specific factors, Progressive mobile home insurance provides one of the cheapest quotes, with coverage starting at less than $300 per year. Foremost and State Farm are also among the affordable mobile home insurance options to consider.
It's important to compare as many quotes as possible to make sure you're getting the cheapest mobile home insurance rate. Prices can vary by hundreds of dollars per year, so it's essential to review as many quotes as possible.
With the free comparison tool on this site, you can get up to ten mobile homeowners' insurance rate quotes in under five minutes. Get started now by entering your zip code.
How to Get Cheaper Mobile Home Insurance
Don't Get Unneeded Coverage – Ensure your home for a replacement cost, not the purchase price or the current market price. If it costs $60,000 to replace it, then that is a good amount to insure it. You don't want to pay for coverage that you don't need.
Maintain a good Credit Score – Like automobile coverage, credit plays a vital role in determining a person's risk profile and the likelihood of filing a claim or even a false one. The better your credit is, the cheaper your manufactured home insurance premiums will be. Try to keep your credit score above 700.
Bundle your Policies Together – With an insurer that offers discounts for bundling, you can save 10% or more. Some even provide special rates for combining home, auto, and life together. Enter your zip now and see the discounts you qualify for.
Install a security system and add extra safety features – If you install several fire alarms throughout your house, for example, or add deadbolt locks and carbon monoxide detectors, you can save 5% or more.
Raise your Deductible and Lower Your Premiums – This simple decision to opt for a higher deductible can save you hundreds per year. For example, a $5,000 deductible can save you about 30% with select insurers.
Compare Rates Each Year – At least once a year, you should try and lower your premiums. Go online and compare mobile home rates in minutes using your smartphone or any device connected to the web. It only takes a few minutes, so there is no excuse.
Compare the Cheapest Mobile Home Insurance Quotes
The internet has made shopping for cheap mobile home insurance fast and easy. Simply complete a single form on our Citizens Insurance website (distinct from the Florida-based insurance company of the same name), and you'll gain access to ten or more quotes from numerous leading providers. This allows you to conveniently compare and contrast multiple options.

By comparing quotes with our Citizens' mobile home insurance website, many people have saved $300 or more on their coverage. You can even use your smartphone or tablet to get an online quote. To start, just enter your zip code. Then, get affordable mobile home coverage and save more of your hard-earned money.
Compare Quotes in 2 Minutes
Secured with SHA-256 Encryption