Earthquake Insurance In California
Get the Cheapest Earthquake Insurance Online. Cheap Rates from $18 Mo. Start saving money now with Citizens Insurance!
Compare Quotes in 2 Minutes
Secured with SHA-256 Encryption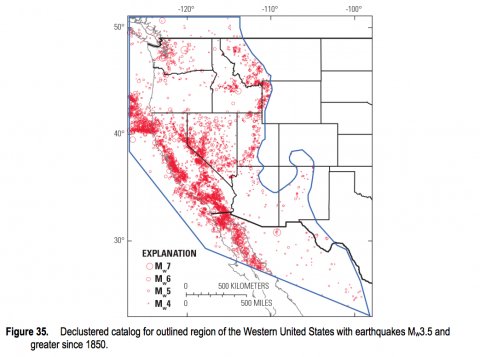 If you are getting ready to get a house in California, you might wonder whether or not you need to get earthquake coverage added to your policy. After all, it is hard to remember even the last time a major quake hit the golden state and caused any severe damage. You might assume you can get away with it and save some money too. The reality is California has around 10,000 quakes every year. While 99% of these are tremors in the range of 3.0 and smaller, more than 15 are higher than a magnitude of 4.0.
Additionally, a big one seems to happen every 10-12 years that could devastate your home. With this in mind, you require being utterly ready in the event one hits. You should carefully consider adding earthquake insurance in California onto your policy. It could save you from financial devastation in the event one of these tragic natural disasters hits. Let's go over some details that will help you define your decision and save you money in the process.
In California, your Homeowner's Policy won't cover your home

from damages

as a result of an earthquake
You need to purchase a separate policy. This ins is entirely different from a standard automobile policy, which you can alter and upgrade. With earthquake coverage, your policy is figured regarding a percentage based on the deductible amount.
How are your Policy and Deductible Calculated?
Let's say, for illustration purposes, you insured your home for $300,000, and then $100,000 in-home damages result from a quake. You will be liable for paying a deductible (often 15% of the amount of coverage you get) before the insurance company kicks in and pays the rest. So you would, in this example, pay $45,000, and then the insurer would pay for the rest of the costs to repair your home. However, if you did not have any quake insurance, you would be burdened with paying all of the $100,000 in damages inflicted on your house.
Considering how much money getting covered could save you, it is a shock that only about 10% of California homeowners carry this essential coverage.
Your Possessions
When you buy earthquake insurance, your home contents are covered by a fixed dollar amount, like $20,000. This makes sense because, unlike a fire, which can ruin everything inside your house and even more, an earthquake normally will not destroy all of your belongings. If you have expensive personal items like an HD camera valued at over $5,000, you might consider getting added coverage.
Exclusions
There will be some factors that insurers will exclude from being covered. These could include fencing, pools, and even other structures on your property like a garage. Talk to your Citizens home insurance professional today to find out more.
Loss of Use
Limits on the loss of use can be a lot more restricted for earthquake insurance. Typically, like possessions, it will be set to an exact dollar amount – like $2,000.
Cost of Getting Coverage
Getting this type of coverage can be costly, especially in areas prone to quakes, like along the San Andreas fault line. For earthquake insurance in California, typical rates are $15 for each $1,000 covered. So if you had a $1,000,000 home policy, this would be around $15,000. If you ever get hit by a massive quake that does significant damage, your home could be condemned and ruled a total loss. The proper protection could save you from financial devastation.
Getting Discounts on Your Policy
You can qualify for substantial discounts on your policy from the California earthquake authority if you retrofit an older home to bring it up to current standards. This involves creating a stronger, more stable foundation and strengthening the walls. Not only will you improve your home's safety and value, but you will save on insurance as well. This makes total sense if you have an aging home.
Shop Online For Cheap California Earthquake Insurance
If you need to add this vital protection to your home, go online, and let Citizens property Insurance help you find the cheapest earthquake insurance available. We search all the major insurers nationwide and give you up to 10 free online quotes in minutes. We have helpful agents standing by to clarify all of your inquiries. Get started now and get a better rate.
Compare Quotes in 2 Minutes
Secured with SHA-256 Encryption