Temporary Car Insurance For Low-Income Families
Find Low Cost Temporary Car Insurance for Low-Income Individuals. Save more on your auto insurance today!
Compare Quotes in 2 Minutes
Secured with SHA-256 Encryption
If you are in a cash crunch and need to insure your vehicle, then one option is cheap temporary car insurance for low-income families. Auto insurance is required in almost every state, but premiums may seem out of reach when money is very tight. 
The good news for families low on funds is there are ways to find cheap temporary auto insurance, even on a limited budget. Understanding your options for temporary or minimum liability car insurance and shopping around for quotes will help you save a lot. 
This guide will provide tips for low-income drivers to get the state-minimum liability insurance needed to legally drive for the lowest possible price. We'll also look at some of the cheapest used vehicles to insure.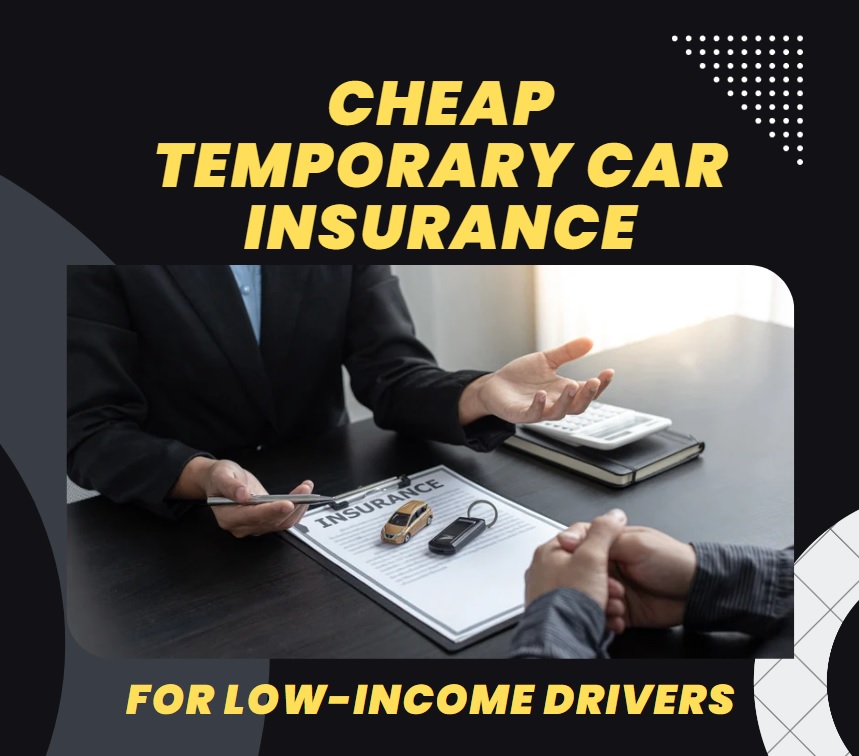 What is Temporary Car Insurance?
Temporary car insurance refers to short-term auto insurance coverage that lasts for a limited period, usually ranging from a few days to a few months. Unlike standard car insurance policies that typically cover a year-long period, temporary insurance is designed to provide flexibility and convenience for situations where long-term coverage is not necessary or practical.
Why is Temporary Car Insurance Good for Low-Income Drivers?
Low-income drivers might find it challenging to commit to long-term financial obligations. Temporary insurance provides a solution without the burden of an annual contract. Additionally, since the insurance is for a shorter period, the total cost is generally lower compared to regular insurance policies, making it more manageable for low-income individuals.
What is Minimum Liability Car Insurance?
Minimum liability car insurance refers to the most basic level of car insurance that is legally required in most U.S. states. This type of insurance is designed to cover the costs associated with damages and injuries that the insured driver is legally responsible for in the event of an accident. The specifics of minimum liability insurance can vary from state to state, but it generally includes:
Bodily Injury Liability: This covers costs related to injuries that other people (not in the insured's vehicle) sustain in an accident for which the insured driver is at fault. It can help pay for medical expenses, lost wages, and legal fees.
Property Damage Liability: This component covers the costs of damage to someone else's property caused by the insured vehicle. This usually means damage to someone else's car, but it can also include damage to structures like homes or fences.
Each state sets its own minimum limits for liability insurance, which are usually expressed in a format like 25/50/25. This would mean:
$25,000 for bodily injury per person
$50,000 for total bodily injury per accident (if multiple people are injured)
$25,000 for property damage per accident
Minimum liability policies are a low-cost way to meet financial responsibility requirements for driving legally. The downside of this option is that it offers limited protection. It's important to note that minimum liability insurance does not cover the policyholder's own injuries or property damage. For more comprehensive coverage, drivers often choose to purchase additional coverage types like collision, comprehensive, and uninsured/underinsured motorist coverage.
Top Providers of Temporary Minimum Car Insurance
If you need to get temporary minimum liability auto insurance coverage for a short period, there are several options you can consider. These include:
Metromile – Metromile offers pay-per-mile insurance with rates starting around $30/month plus a few cents per mile. They offer minimum liability coverage perfect for low mileage drivers needing cheap temporary car insurance.
State Farm – One of the largest insurers in the country, State Farm offers a simple process to get a temporary liability policy at a low cost through independent agents.
GEICO – GEICO has an easy online application for minimum liability car insurance at low rates on a month-to-month basis. No long-term commitments are required.
Progressive – Progressive lets you get cheap temporary car insurance online easily for as little as one week of coverage to get the minimum liability needed.
Using one of these insurers, you can obtain low-cost, temporary, minimum liability coverage perfect for low-income families on a strict budget who just need basic insurance for a short period of time. Make sure to compare several quotes to find the best rate.
Compare Quotes in 2 Minutes
Secured with SHA-256 Encryption
Getting the Cheapest Temporary Full Coverage Car Insurance
While minimum liability insurance meets state legal minimums, it leaves you unprotected from damage to your own car. Collision and comprehensive coverage pay for repairs to your vehicle after accidents or incidents like theft and vandalism.
To get the cheapest rates for full coverage insurance, follow these tips:
Comparison shop. Get quotes from as many insurers as possible to compare rates for the same coverage. Online quote tools make this easy.
Opt for higher deductibles. Choosing higher deductibles of $500 or $1,000 can substantially reduce premiums.
Ask about discounts. Inquire with insurers about discounts for things like good driving history, good credit, safety features on your car, bundled policies, and more.
Maintain good credit. Insurance companies often use credit-based insurance scores to set rates. Keeping your credit in shape can help lock in lower premiums.
Consider usage-based programs. Insurers like Progressive and Allstate offer apps to monitor driving habits and offer discounted rates for safe drivers.
Reduce coverage on older vehicles. You may be able to drop comprehensive and collision coverage on older cars worth less than 10 years of premiums. 
Taking these steps can help you secure the most affordable full-coverage car insurance policy possible. Make sure to get quotes from top national auto insurance providers and local insurers for the lowest rates.
Top 10 Cheapest Temporary Full Auto Insurance Providers
Here are ten of the best insurers for affordable liability, collision, and comprehensive coverage:
GEICO – GEICO is one of the cheapest major insurers, offering low rates and extensive discounts. They have an easy online quote and claims process.

Average annual full coverage cost: $1,168

USAA – For military members, USAA offers some of the lowest auto insurance rates and best customer service. Discounts for garaging vehicles on base help lower premiums. 

Average annual full coverage cost: $1,092

Progressive – Progressive is known for low rates and innovative tools like Name Your Price and Snapshot. A great choice for high-risk drivers.

Average annual full coverage cost: $1,313

State Farm – Popular national insurer with local agents and discounts for bundling home and auto policies.

Average annual full coverage cost: $1,498

Travelers – Travelers insurance offers highly customized policies and competitively priced premiums.

Average annual full coverage cost: $1,168  

Nationwide – Flexible coverage and discounts for protective devices make Nationwide policies affordable.

Average annual full coverage cost: $1,238

Allstate – Allstate has usage-based options like Drivewise to earn discounts for safe driving habits. 

Average annual full coverage cost: $1,537

Farmers – Farmers provides robust coverage options, a large agent network, and a telematics app to monitor driving.

Average annual full coverage cost: $1,672

Liberty Mutual – Liberty Mutual offers 12-month policies, new car replacements, and low rates.

Average annual full coverage cost: $1,536

The Hartford – Policies from The Hartford have accident forgiveness and disappearing deductibles.

Average annual full coverage cost: $1,483
Comparing quotes from these insurers can help you find the most budget-friendly rates. Make sure to ask about all available discounts to maximize savings.
Compare Quotes in 2 Minutes
Secured with SHA-256 Encryption
Getting Cheapest Used Cars to Insure
To get cheap temporary car insurance for low-income families, you're going to need to drive a vehicle that's cheap to insure. Owning an inexpensive used car is a great way for low-income drivers to save money. However, insurance costs also depend heavily on the vehicle you drive. Choosing an older, low-value, safe car can keep insurance premiums affordable. Here are some of the cheapest used vehicles to insure:
Subaru Outback – Midsize Subaru wagons have stellar safety ratings and low injury claims. Above-average reliability keeps repair costs down. Full coverage costs around $1,316 annually. 
Toyota Prius – The Prius has ultra-low ownership costs thanks to its amazing fuel economy. Advanced safety tech and low injury rates make this a favorite of insurers. Expect to pay around $1,234 per year for full coverage.
Honda CR-V – This compact Honda SUV has impressive value retention and longevity. Honda's reputation for reliability helps reduce premiums. Insuring a used CR-V costs about $1,317 per year. 
Toyota Camry – Camrys have outstanding long-term dependability. High resale value prevents steep depreciation. Full coverage runs around $1,445 annually.
Honda Civic – As a top-selling compact car, the Honda Civic offers reliability and value plus cheap and easy repairs. Insurance costs average $1,548 per year.
Ford Escape – The Escape delivers solid crash test performance and family-friendly practicality. Expect full coverage rates of around $1,542 annually.
Hyundai Tucson – This compact crossover SUV gets high marks for value and safety technology. The average insurance cost is about $1,542 per year.  
Chevrolet Equinox – The Equinox has simple mechanicals and an affordable parts supply. Average full coverage premiums are around $1,605 annually.
Jeep Patriot – An affordable crossover SUV from Jeep built on a car-like platform. Has low repair costs and insurance averaging $1,463 per year.
Subaru Forester – Another reliable and safe Subaru crossover perfect for budget-minded drivers. Expect to pay around $1,472 annually for full coverage.
Buying an older used model, like one of the ones mentioned here, can get your insurance costs under $1,000 annually since the collision and comprehensive coverage cost is much less for a low-value vehicle.
Tips for Getting the Cheapest Temporary Car Insurance for Low-Income Families
Beyond picking the right insurer and vehicle, there are many other ways low-income drivers can save money on car insurance:
Only insure what you must – Consider dropping collision and comprehensive coverage on old cars. Also, increase liability limits only as much as needed.
Ask about discounts – Take advantage of every discount you qualify for like multi-policy, safe driver, affinity group, paperless billing, and more.
Improve your credit – Insurance companies use credit-based scores to set rates. Improving poor credit can lower premiums significantly.
Bundle home and auto – Insure your home or renters policy with the same provider for multi-policy discounts.
Take a defensive driving course – Completing a safety course qualifies for discounts with many insurers.
Reduce mileage – Consider pay-per-mile insurance or seek discounts based on lower annual mileage.
Increase deductibles – Going for deductibles of $500, $750, or $1,000 can substantially reduce overall premiums.
Drop extra coverages – If money is really tight, cancel towing insurance, rental reimbursement, roadside assistance, and other add-ons.
Pay premiums upfront – Choose to pay 6 months or a year upfront rather than monthly payments to avoid fees.
Seek group insurance – Check for discounts through employers, universities, and organizations.
Using these strategies can help lower-income drivers find much more affordable auto insurance. Make sure to take time to get quotes, understand options, and use all available discounts. With some effort, you can find minimum liability or basic full coverage at a reasonable cost even on a tight budget.
Conclusion
Finding affordable car insurance is crucial for low-income families just looking to meet state minimum requirements to legally operate a motor vehicle. While rates from standard companies may seem out of reach, using temporary policies, choosing the right insurer and vehicle, and maximizing discounts can make minimal liability insurance attainable and affordable.
Make sure you balance cost with the coverage needed for your specific situation. With some diligent research and quote comparison shopping, cheap temporary car insurance for low-income families is within your reach.
Compare Quotes in 2 Minutes
Secured with SHA-256 Encryption