Third Party Car Insurance
Explore the essentials of third party car insurance, understand its benefits, limitations, and find out why it's a crucial protection.
Compare Quotes in 2 Minutes
Secured with SHA-256 Encryption
Third party car insurance, also known as liability insurance, is the most basic type of auto insurance you can purchase. It covers damage and injuries you may cause to others when driving your vehicle. With third party insurance, if you are deemed responsible for an accident, your insurer will pay compensation to the other driver and any third parties involved, up to the coverage limit of your policy.
While third party coverage protects other people and their property, it does not pay for repairs to your own vehicle or medical expenses for you or your passengers if you are injured. For that, you would need comprehensive and collision coverage as add-ons to your basic liability policy.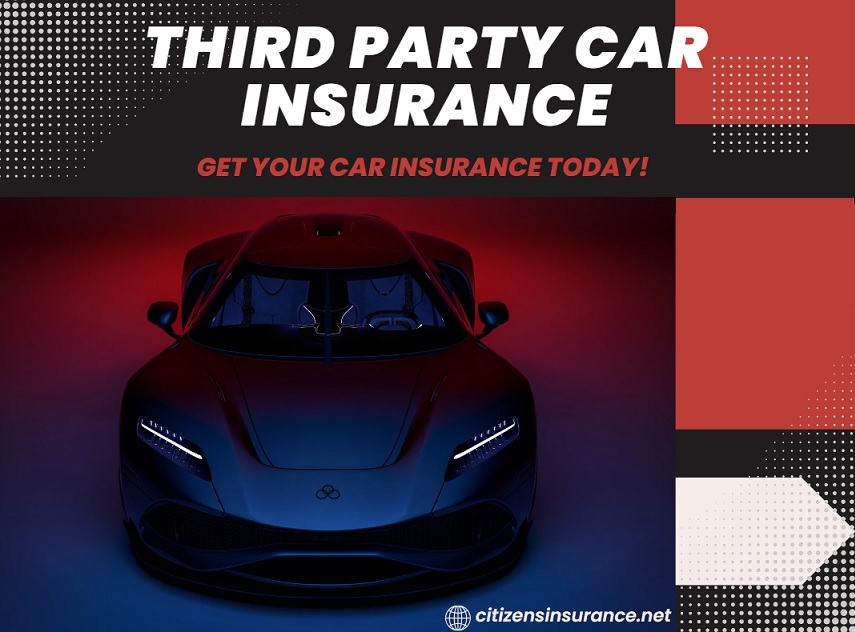 What Does Third Party Insurance Cover?
A standard third party policy has three main components of protection:
Bodily Injury Liability: Pays for injuries to other people caused by an at-fault accident on your part. There are typically two limits – per person and per accident total. For example, 100/300 means up to $100,000 per individual injured, up to $300,000 maximum per accident.
Property Damage Liability: This covers damage to another vehicle or property like buildings, utility poles, fences, etc. if you are at fault. Usually has a single limit, such as $50,000.
Uninsured Motorist Bodily Injury: Provides compensation if you are injured by a hit-and-run driver or uninsured motorist. Limits mirror the bodily injury liability (100/300 for example).
Some insurers may also offer these additional coverages:
Rental Reimbursement: Pays for a rental car if your vehicle is in the shop after an accident.
Roadside Assistance: Covers towing and labor if your car breaks down.
Loan/Lease Gap Insurance: This pays the difference between what your vehicle is worth and what you still owe if it is totaled.
How Much Does Third Party Car Insurance Cost?
Car insurance rates can vary dramatically based on your location, driving history, age, type of vehicle, and other factors. Here are some sample third party insurance quotes from major providers:
Geico – $47 per month or $564 per year for minimum coverage limits.
Progressive – $54 per month or $648 per year for state minimum liability.
State Farm – $511 per year for $25,000 bodily injury per person, $50,000 per accident.
Allstate – $488 annually for $50,000 bodily injury per person, $100,000 per accident.
AAA – $426 per year for $50,000 injury/$100,000 total per accident.
Liberty Mutual – $582 per year for $50,000/$100,000 bodily injury liability.
Nationwide – $478 annually for $50,000/$100,000 injury coverage.
Travelers – $540 per year for $50,000/$100,000 bodily injury liability.
USAA – $511 per year for $50,000/$100,000 bodily injury motorist.
The Hartford – $707 annually for $50,000/$100,000 injury liability.
As you can see, AAA Insurance has the cheapest third party car insurance, with rates just above $400 a year. This is well below other carriers like The Hartford, which is hundreds more per year.
For third party insurance, premiums often range from around $400 to $700 for basic coverage depending on your insurer and policy limits. However, factors like age, driving record, and location can make prices vary significantly. Getting quotes from multiple insurers is the best way to find the lowest cost auto insurance rates.
Compare Quotes in 2 Minutes
Secured with SHA-256 Encryption
Who Should Consider Third Party Car Insurance?
Third party coverage is mandatory in most states as it protects others on the road. However, there are some situations where a basic liability policy may make more sense than comprehensive coverage:
Drivers with older, low-value vehicles – Since third party insurance does not pay for repairs to your car, it does not make sense to pay for collision/comprehensive coverage on cars worth $1,000 or less. The premiums would likely exceed the value.
Those with excellent driving records – For very safe, accident-free drivers, collision and comprehensive can be skipped to save on premiums.
People on a very tight budget – If you can only afford dirt cheap car insurance coverage, perhaps liability-only car insurance is the right option. For those who can barely afford minimal liability coverage, paying for additional add-ons may not be possible.
Teen drivers – Teen accident rates are high, so comprehensive and collision premiums are very expensive. Starting with liability-only until rates drop around age 25 can save money.
The Downsides of Third Party Car Insurance
While third party coverage meets state minimum requirements and protects others, there are some downsides to being covered only for liability:
No protection for your vehicle – Any damage to your car in an accident will have to be paid out of pocket.
Limited coverage for you and your passengers' medical bills – You would need health insurance or pay expenses yourself if injured.
No coverage for theft, vandalism, weather, fire, or animal collisions – Comprehensive insurance would be required for these hazards.
No rental car reimbursement – You would need to pay for a rental yourself if your vehicle is being repaired after an accident.
Minimal accident benefits – You only get what is required by law, usually $2,000 – $10,000 depending on the state.
For many drivers, the extra peace of mind of having comprehensive and collision insurance protection is worth the higher premiums. But for some, a liability-only policy makes the most financial sense. Talk to an agent to determine what coverages are right for your situation.
Increasing Your Liability Limits
While state-minimum liability coverage meets basic requirements, experts recommend higher limits to better protect your assets. Here are some examples of potential costs that exceed minimums:
Bodily Injury: The lifetime medical care for even minor injuries can easily exceed $25,000. Major injuries requiring hospitalization, surgery, rehab or long-term care can cost hundreds of thousands.
Property Damage: The average new car costs over $40,000. A multiple-vehicle accident could exceed basic $25,000 or $50,000 limits.
Lawsuits: In litigious environments, you could be sued not just for compensatory damages but also for pain and suffering or punitive awards.
Umbrella insurance policies provide additional liability coverage at relatively affordable rates. For instance, an extra $1 million in coverage may cost $150 – $300 per year. Considering potential accident costs, extra liability limits are worth exploring.
Conclusion
Third party car insurance provides valuable protection against costs incurred from injuring others or damaging their property with your vehicle. While minimum coverage meets most state requirements, higher liability limits are recommended when possible to protect assets.
Third party policies may make sense for older cars, safe drivers, teens, and high-risk drivers. However, more comprehensive coverage should be considered by most motorists for added peace of mind. To compare third party auto insurance rates where you live, enter your zip code and fill out an online application. Compare up to ten quotes and save more with direct auto insurance rates.
Compare Quotes in 2 Minutes
Secured with SHA-256 Encryption