Car Insurance Under $100 a Month
Get Car Insurance Under $100 a Month. Save $100s Now. Fast, Free Quotes. Online Rates as Low as $29 a Month.
Compare Quotes in 2 Minutes
Secured with SHA-256 Encryption
You should carefully decide about your insurance type and coverage limits if you are trying to buy car insurance under $100 a month. It can get complicated if you want to determine the exact cost of your car insurance rates. Because rate calculation includes various things you don't know or have control over, such as your gender, age, marital status, etc., your rates might be more or less than $100 monthly.
To increase your chances of getting auto insurance coverage under $100 per month: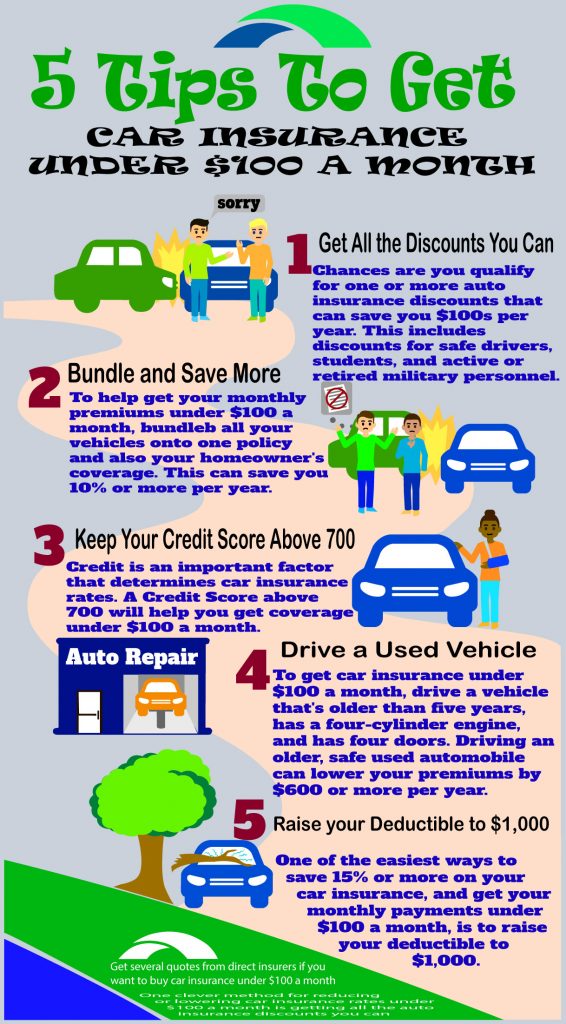 Maintain or Increase your Credit Score above 700
Get a vehicle that is cheap to insure (like a van, SUV, or four-cylinder sedan)
Have a Clean Driving Record
Live in a Rural Area
Increase your Deductible to $1,000
Add Enhanced Safety Features to Your Car
Drive under 800 Miles per Month
Get all the Discounts you can
Compare at least ten quotes from Regional and National Insurance Providers
Comprehensive and collision insurance will cost you more and often raise your payments above $100 a month, but this enhanced coverage is necessary for many people. One of the essential steps in getting cheap auto insurance under $100 a month is comparing several quotes. It's fast and easy to compare direct quotes on your smartphone in about five minutes. To get started, just enter your zip code.
Liability Car Insurance for $50 or Less Per Month
In all but one U.S. state, liability insurance is mandatory to operate a motor vehicle. Every state has insurance laws involving the minimum liability protection you must buy. Many people don't have the funds for expensive comprehensive insurance and need basic liability coverage. Persons currently unemployed, students, and retired persons who do not drive as much as they once did are often those who select state minimum liability coverage. One can buy these "bare bones" policies, often for less than $100 per month. Good drivers can usually get liability insurance under $50 monthly. It depends to a large extent on the record of the driver as well as the vehicle being insured.
Minimum Liability Auto Insurance Policy
The minimum liability auto insurance policy has one big problem. It will often not provide enough coverage if you get into a severe vehicular accident. As a result, you can get sued and held responsible for the costs associated with the collision. However, these costs may be above or beyond your insurance coverage. For instance, if you hit a vehicle that costs $65,000 and only has $40,000 in protection, you can get sued for the remaining $25,000. Also, if the passengers get injured in that vehicle because of you, you can be responsible for their medical costs.
Set Policy Limits Above the State Mandated Minimum
Even if you are a new driver and have low funds, you should still get insurance limits above the state-mandated minimums. Generally, the limits you choose should correlate with your assets. So, if your assets are worth $200,000, you will get insurance protection of $200,000 or even more. You never want to get dragged into court and be liable for $200,000 or more in the judgment of an accident and only have $50,000 limits on your policy. It could result in you owing a considerable amount that a bankruptcy court might not discharge.
"100/300″ Rules
Insurance experts suggest the "100/300 rule." It is a recommended coverage amount endorsed by IIS (Insurance Information Institute). It can cover $100,000 in injuries for every injured individual and up to $300,000 per incident. The IIS recommends drivers utilize this amount as a benchmark and avoid getting insurance coverage with lower limits.
Can Teens Get Car Insurance Under $100 a Month?
Teens are the riskiest drivers of any age. Drivers 20 years old or younger take more risks behind the wheel than older motorists. Hence drivers under 20 get charged higher premiums. They do risky things while driving, such as cell phone texting, which leads to more accidents than other age groups. Young drivers are inexperienced, also. Teenagers pay more for auto insurance coverage since they get involved in more accidents than drivers over 20.
It begs the question, is it even possible for teens to get auto insurance under $100 a month? The answer is almost always no. However, under $100 a month, teenage car insurance might still be viable under specific conditions. Below is a solid strategy:
A. Get on a Parents Policy
If you want the lowest monthly rate, it's essential to stay on your parent's policy. Adding a driver onto an existing policy under 20 can save hundreds annually. Most teenagers don't have the financial means to buy a separate policy. In most cases, they need their parents to help them. Adding an inexperienced driver to the policy can cause your rates to go up well over $100 per month. Rates may increase more due to several factors, such as if the teenager has accidents or tickets on their record. Another advantage is there is no age limit. One can add a young driver to their policy if they are 16 or 30. The requirement is only that the child and the parent agree to this. But you should note that some insurers have strict criteria that should be met.
B. Drive an Automobile that is at least 10 Years Old
You can insure for a lot less those vehicles that are old enough and are not driven much. You may be able to insure them for less than $100 per month. Older cars have depreciated quite a bit, making them cheaper to insure. The best deal is getting a vehicle with four doors and a four-cylinder engine for a teen. This way, you will lower premiums significantly. If teens want to save the most on car insurance coverage, they should drive an old car worth less than $6,000.
C. Buy Liability Only Coverage
Getting liability-only coverage for a teen can be dangerous, but you can carefully consider this option if you want the lowest rates. If the young driver gets into a severe accident, it is best to get broad protection in the long run, such as comprehensive collision insurance with high limits.
D. Get a Good Student Discount
A young motorist with a GPA of 3.0 or higher can reduce premiums by 10% or even more.
E. Set a Higher Deductible
If offered, a high deductible of $1,000 or $2,000 can decrease rates, even for drivers who are under 20 years.
F. Complete a Certified Defensive Driving Class
Every young driver under 20 should consider completing a safe driving course. By doing this, they will be better drivers than before and will also learn a lot. They can get around 10% off their car insurance if they complete the course.
G. Stay Accident and Ticket Free
For young drivers, only one ticket can increase the rates. Obey all traffic rules, drive safely, and keep the insurance rates as low as possible.
H. Drive Your Vehicle Less Than 800 Miles Per Month
Even for teens, low mileage discounts can save a driver hundreds per year.
I. Get Coverage with an Insurer Who Offers You Telematics Discounts
Teens who drive safely can save about 20% if they install a Telematic device to track their driving behavior. If you follow this tip, it might be possible to get teen insurance coverage for under $100 a month.
Senior Citizens Automobile Insurance for Less Than $100 a Month
Indeed, most seniors are responsible and safe drivers. They do not drive as recklessly as teenagers. These are some reasons why they get the cheapest rates for insurance. Seniors who maintain a credit score above 700, have a better driving record, and drive a used vehicle, can easily get rates under $100 monthly. If you have a car worth under $5,000, consider removing collision and comprehensive coverage to save even more. If you want cheaper rates below $100 per month, consider raising your Deductible to $1,000 or higher. Many companies offer low monthly rates and solid coverage to senior drivers. It includes State Farm, Farmers, Progressive, Nationwide, Travelers, and Allstate.
Easy Ways to Get Car Insurance Under $100 a Month
If you want to get your auto insurance rates below $100 a month, then you should focus on several things, some of which you may have never heard of:
Maintain an Excellent Driving Record with no Tickets
If a motorist maintains a solid driving record with no tickets, the motorist can often get covered for under $100 a month and usually less. One crucial step is to compare multiple rates when searching for any insurance plan. Spend some time comparing direct quotes and see if you can find good coverage for under $100 monthly.
Get Liability Only Auto Insurance with Higher Limits
When you buy auto insurance coverage, it is imperative to consider carefully protecting yourself financially. In the case of a severe automobile accident, auto insurance should protect you fully. If you have personal assets to protect over $100,000, it is not intelligent to buy liability-only auto insurance.
Old Vehicles Cost Less to Insure
If your car is five years old or even older, then there is a greater chance that you will get auto insurance for less than $100 monthly. The year, model, and vehicle make are huge factors determining your rates. If your car is newer and more expensive, your rates will be higher.
Drive Used Vehicles
If you want insurance under $100 a month, you need to drive a second-hand or used vehicle 5 or 6, or 7 years old. Insurers offer discounts for family sedans, like a Toyota Camry. Another way to get dirt-cheap auto insurance is to buy a used SUV. Believe it or not, used SUVs are some of the most affordable vehicles to insure. Many SUV models can help you get under $100 a month of auto insurance. As stated previously, get a four-door vehicle with a four-cylinder engine. These "lower performance" vehicles are much cheaper to insure.   
Comprehensive Insurance for Under $100 a Month
If you have a financed or leased vehicle, you will be required in most instances to buy comprehensive coverage. Getting car insurance for under $100 a month for new or newer vehicles leased or financed can be challenging. If this is your case, raise the Deductible to $1,000, and you will have a shot at $100 monthly automobile insurance.
Credit Score of 700 or Above
Another thing that can help you get cheaper rates is to have a high credit rating of 700 or more. Insurers place a great deal of emphasis on a driver's credit. States show drivers with a higher credit score are safer motorists who get into less frequent accidents. Also, married and owned drivers can get cheaper rates under $100 per month. Compare quotes now by entering your zip code.
Get Discounts For Lowering The Auto Insurance Costs
One clever method for reducing or lowering car insurance rates under $100 a month is getting all the auto insurance discounts you can. Many people will be eligible for one or more discounts. It often means the difference between affording coverage or not. Below are some typical discounts you can apply for:
Teacher
Safe Driver
Senior Citizen
Garaged Vehicle
Military and Veteran
Low Monthly Mileage
Good Student Discount
Automatic Deduction Payment Plan
Find the Cheapest Auto Insurance Rates Under $100 a Month Online
Shopping online for car insurance is not only faster, but it will save you a lot of money as well. Many direct insurers have auto insurance under $100 a month for qualified drivers. There are many cost benefits for selling policies online, which are passed onto the customer at cheaper rates. You should get several quotes from direct insurers if you want to buy car insurance under $100 a month. To get started, enter your zip code and fill out a five-minute application. Lower your rates today.
Compare Quotes in 2 Minutes
Secured with SHA-256 Encryption