Dollar a Day Car Insurance
If you are a low-income New Jersey resident and meet certain requirements, Car Insurance Coverage for $1 dollar per day may be an ideal insurance plan.
Compare Quotes in 2 Minutes
Secured with SHA-256 Encryption
Dollar a Day Car Insurance
In the United States, New Jersey residents can opt for one dollar a day car insurance. It is not available for the entire population but for drivers who meet a number of requirements. For example, some state drivers who have Medicaid are almost always approved for the Special Auto Insurance Policy (SAIP). The approximate price of coverage for this type of residual market government auto insurance is $ 365 per year. This is why it's commonly referred to as $1 dollar a day insurance.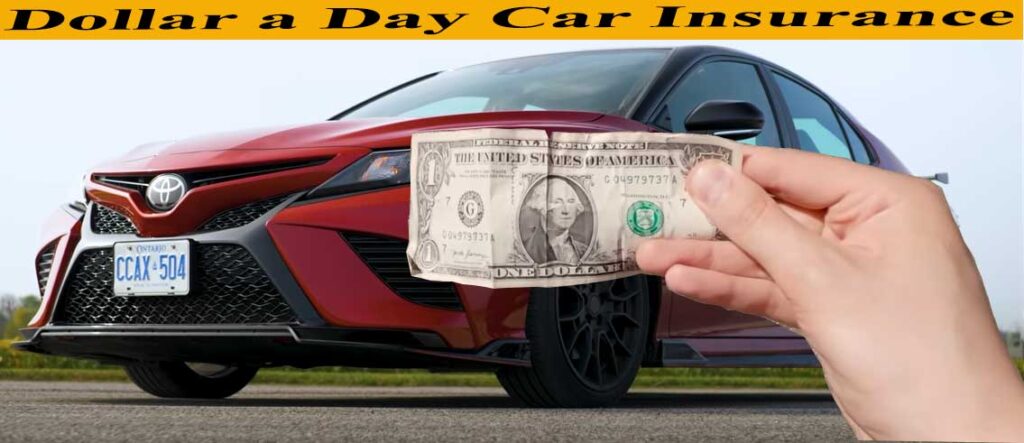 Although SAIP insurance coverage is apparently ideal for low-income NJ drivers, it was created to be an auto insurance deal considered the last option. Even so, you should know that this policy is inconvenient and does not provide adequate coverage for most drivers. That's why you must learn to what extent this type of insurance is responsible for the losses suffered in an accident. Other issues to be clear about are:
The insurance application process
Payment methods
The aspects that must be met for this type of insurance
All you need to know about the specific requirements will be noted below.
How Did SAIP Arise?
It is a product of the Department of Bank Insurance and was designed to collaborate with drivers who live in New Jersey and are considered to have low incomes. Too many drivers have lost their auto insurance coverage because they couldn't keep paying for it. This fact resulted in a big problem with more and more low-income New Jersey residents driving without automobile coverage. State government officials set out to solve this problem of uninsured drivers by creating the NJ SAIP auto insurance program, which offers car insurance coverage for $1 dollar per day.  
This program offers New Jersey drivers the facility to obtain medical payment coverage in the event of a car accident. This way, a decrease in crashes resulting in uncovered medical bills, as well as lawsuits, was foreseen. Not everyone will qualify, and several standards need to be met.  
The Extent to Which SAIP Insurance Is Responsible
First of all, we must emphasize that with SAIP, you may not be driving legally, even if you have been granted proof of insurance. The point is that $1 dollar a day car insurance NJ is very limited for the policyholder. In such a way, it does not cover the mandatory requirements of auto insurance in the state of New Jersey. Besides, in the event of a severe accident, you may not have enough coverage to pay for the resulting repairs and medical costs.
What Is Protected With SAIP Coverage?
This coverage responds only in case of medical emergency for the insured, almost always treated in a health center emergency room just after the incident. This coverage will also be responsible for the expenses in the event the SAIP policy owner needs medical attention for a severe injury to the spinal cord or brain. 
Despite all this, this insurance policy has a fund of $250,000 for medical coverage. If the insured driver is unfortunately dead in the incident, their family members will award a death benefit of $10,000. This amount is roughly the price of funeral expenses.
What Is Not Protected by SAIP Coverage
This type of auto insurance does not include liability coverage, which is essential to pay for possible damages to third parties. Besides, it does not pay for frequent medical monitoring due to the driver's bodily injury and doesn't cover damage to the insured car.
In What Situations Does the Policyholder Respond?
You, as the insured, will respond to the following situations:
Medical treatments that are not urgent or do not involve your brain or spinal cord. You can choose to require Medicaid to pay for your medical monitoring, although you will have to do this independently.
The damages caused to third parties due to the incident in case you are responsible. If the other driver or a traveler in the vehicle demands it, SAIP insurance will not respond to legal procedures.
Damage is caused to your car or property, no matter who is responsible.
Damage to other cars or other properties in the event that you are responsible.
How to Get SAIP Dollar a Day Car Insurance?
You can purchase SAIP coverage through almost all New Jersey insurers. However, the National Continental Insurance Company is the insurance company that makes this kind of policy. The state of New Jersey gives you the ability to make a county search for an agent.
If you want to apply for SAIP, you must meet the requirements that we show you below:
You need to live in New Jersey.
SAIP coverage has to be your only car insurance in NJ, or you will not qualify for this type of insurance.
You and your family members protected by the policy must be enrolled in a Medicaid program that includes hospital admission.
Your driver's license and your car registration documents must be in order. Otherwise, if your driver's license is suspended or previously revoked, you will not be considered for SAIP coverage.
You must present your driver's license and Medicaid ID card to the insurance agent to confirm that you are eligible and able to get a SAIP policy.
Even if you qualify for Medicaid, this does not mean you can get a dollar a day car insurance. Additionally, it is not the only requirement to meet. If your Medicaid enrollment expires, your SAIP coverage will be active until your next renovation. At this point, you have to opt for alternative auto insurance coverage. If you qualify for Medicaid and have not yet signed up, you must do it to be considered for SAIP coverage.
How to Make Dollar a Day Car Insurance Payments?
This coverage is $1 daily or $365 yearly in New Jersey. On the other hand, if you pay all at once in a single lump sum, the cost is reduced to $360. If you cannot make the entire payment simultaneously, you can make it in two installments.
If you have more than one automobile protected by SAIP, you must get two separate policies. These policies cover only one car. The cars you want to have protected must have their own SAIP of $365 per year. 
It would be best to understand that the price of SAIP is fixed; therefore, it does not matter your driving record or any other characteristic of yours.
Can SAIP Be Supplemented?
Unfortunately, you cannot have another kind of auto insurance policy on a SAIP-protected vehicle. SAIP will not be responsible for your hospital payments, while another insurer covers the Property Damage Liability. If you consider Property Damage Liability coverage essential in your case, then SAIP is not the right insurance for you.
Is Dollar a Day Car Insurance the Most Appropriate?
If you look at the information we just provided, considering how little SAIP protects you and that it does not cover New Jersey auto insurance requirements, it is clear that you should view this type of policy as the last option. Although paying $1 a day car insurance is a fascinating offer, this very restricted type of coverage could affect you in the event of an incident.
Our best advice is to get and compare multiple auto insurance quotes from different providers before paying for a dollar a day car insurance policy. Remember that quotes are free of cost, and policies may be more affordable than expected, especially if you have an excellent driving record. Just enter your zip code and start comparing New Jersey auto insurance rates in minutes. Get cheap auto insurance coverage in New Jersey today.
Compare Quotes in 2 Minutes
Secured with SHA-256 Encryption